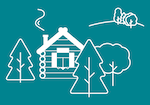 Around the CountryVideo Projects

Dear friends and colleagues,
first of all, as  promised, in our section "Around the Country" there is a continuation of the story about Sergiev Posad. This time we are talking about the founder of the Trinity-Sergius Lavra – Sergiy Radonezhsky. Watch the video. Below the video you will find comprehension questions and, as usual, text in PDF.
Read more...