6th of June – Pushkin's Birthday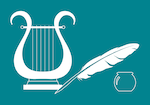 We all remember that June 6 is the birthday of the great Russian poet Alexander Pushkin. Pushkin wrote many things, but even a small simple poem by Pushkin often has deep meaning. Listen to one of them read by Anna: "Если жизнь тебя обманет…"
Е́сли жизнь тебя́ обма́нет,
Не печа́лься, не серди́сь!
В день уны́ния смири́сь:
День весе́лья, верь, наста́нет.
Се́рдце в бу́дущем живёт;
Настоя́щее уны́ло:
Всё мгнове́нно, всё пройдёт;
Что пройдёт, то бу́дет ми́ло.
1825 г.