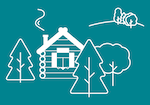 Dear friends and colleagues,
first of all, as  promised, in our section "Around the Country" there is a continuation of the story about Sergiev Posad. This time we are talking about the founder of the Trinity-Sergius Lavra – Sergiy Radonezhsky. Watch the video. Below the video you will find comprehension questions and, as usual, text in PDF.
Here you can see the first video about Sergiev Posad. (Now there are text and subtitles in English).
Secondly, we would like to draw your attention to our NUMERALS worksheet (quantitative and qualitative, A1-A2), which can be purchased in the site's shop.
If you have not visited our site for a while, we'd like to remind you that, in addition to the course in Russian, we have sections dedicated to the cultural information, where many materials are well suited for the "summer season": videos about different Russian towns, about the Russian village, the traditions of tea drinking or mushroom hunting etc, or some simple but beautiful poems.